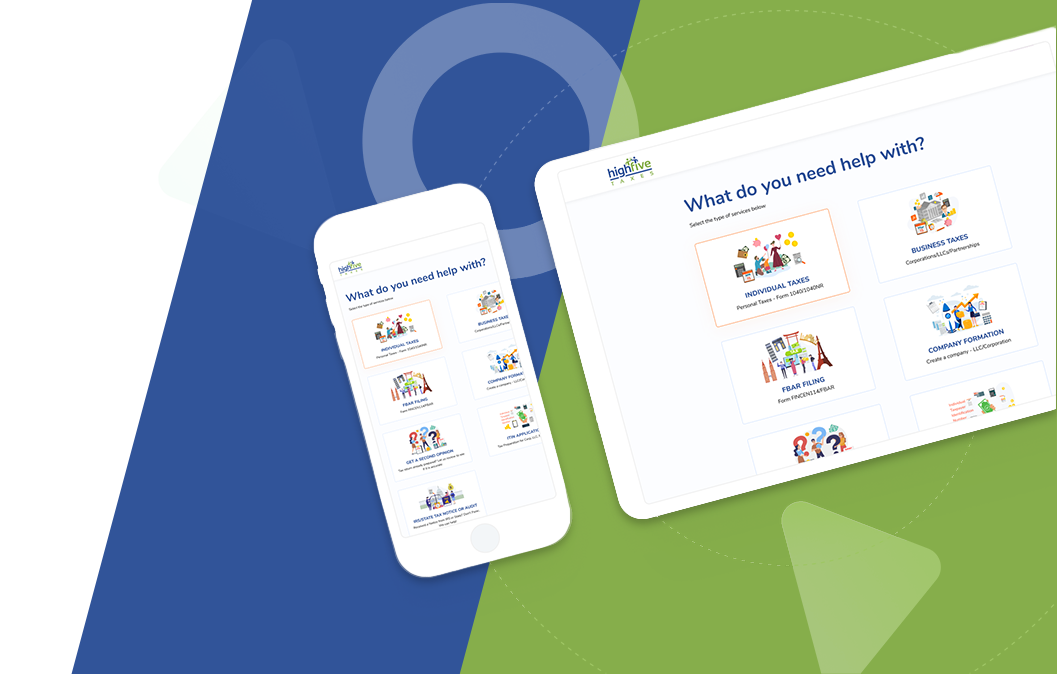 Become High Fiver
Come, join us to see how powerful your career can be as a High Fiver. In a competitive world of Gig Economy, how can you take advantage of the most advanced technology to automate the tax return process? Welcome to High Five Taxes!
How can I benefit as a Pro?

Applying as a Tax Pro is extremely easy. You will go through a few steps in the selection process ranging from Background Check, Tax Skills Assessment, Communication Skills, etc to be a part of the Top 5% in the industry. Our Clients rely on us to connect them with only the Top Talent out there and we want to make sure you are working with real clients who are serious about their taxes and not just shopping around for more refunds.

2. Be your own Boss
You've probably heard this a lot but what if we really make it happen? Taxes could be stressful in general but it gets miserable if you're working 60-80 hour weeks in the tax season. Agree? With our Availability tool, you can turn yourself ON/OFF to pick up the number of tax returns that suits your comfort level. Now, that's convenient!

3. More than a connection tool
High Five taxes is different. It's not just an online marketplace to connect people, it's much more than that. We've built a Smart & Intuitive CRM workflow system as a part of our tool. Our survey amongst 238 Tax Pros showed that more than 83% of the professionals would prefer a workflow system to automatically send out notifications, status alerts, etc to their customers so they can spend less time answering questions and more time adding value.

4. One-Stop Tax platform
Unlike others, we just don't focus on personal or business tax services. We offer the widest range of tax services to our Clients so there is potential for you to earn throughout the year. We don't want you to look around for different gigs after the tax season is over. You're welcome!

You could be a self-employed Tax Pro or have a local tax shop with 3 staff. Our "Earn as you go" policy makes it easier for you to either work full time or just earn that extra cash during the tax season. The more you work, the more you get paid. Simple.

6. Great Support
We're here for you, at every step, along the way. It doesn't matter what question you have, we will find an answer for you. You will work with a "Client Success" Manager to make sure you do what you do best - deliver exceptional client service.

Tax Pros Say:

"I am self employed and been doing taxes for over 15 years now. I used to spend a lot of admin time by maintaining various spreadsheets to track my clients and it was a nightmare. Thanks to the advanced technology at High Five, I cruise through the process and everything is automated from on-boarding a client to e-filing. I love it so much that I ended up moving my existing 50+ Clients to High Five and my clients love it as well"
-Gail Greene
Previous Experience - IRS

"I heard great things about High Five from one of my CPA friends and wanted to give it a try. My first impression - Its awesome!! I can tell it is built by an experienced CPA as all the tools and features makes sense which is not the case when you use general workflow systems. I was just offered a job at a Big 4 and I declined it as I will be returning to High Five next season. Who wants to work 70 hours a week when you can work at your own terms? High Five to the team. Great job!!"
-Yvonne M.
Previous Experience - Deloitte